Article with tag "ADVANTAGE"
What are the 4 basic flight modes?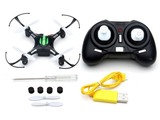 The four basic flight modes are: altitude hold, attitude hold, heading hold, and navigation. Each of these modes is...
↪ More...
Why is a brushless motor better?
A brushless motor is an electromechanical device made up of magnets, wire coils and other components, typically found...
↪ More...